TeleMatrix Marquis
3100 Series Hotel Phones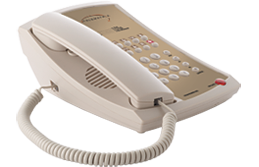 HOTELtelecom has been a leading supplier of hotel phone sets since 1989. As such, we will not knowingly be undersold. There's a reason we're among TeleMatrix's top distributors and you owe it to your business to try us today. When it comes to selling hotel telephone sets, HOTELtelecom is the best name in the business!
We will BEAT any verifiable price
on any new hotel telephone we sell!
TeleMatrix Marquis 3100 Series is sleek with modern European styling and consistently reliable, durable and inventive products.
Marquis 3100 Series telephones are available in a variety of single and 2-line models to meet your requirements, or to replace existing installed telephones.
An excellent combination of style and economy, the all new 3100 basic phone features high quality construction, contemporary sweeping design, a full range of configuration options and comes ready for desk use in Ash and Black. Includes SteelTrap® memory technology (no batteries required), and a 5-Year 'no hassle' warranty. Wall mount available.
With almost 25 years experience and millions of telephones installed worldwide, TeleMatrix has market proven manufacturing, testing and pre/post service techniques. Constantly looking from the telephone's eye-view we have pioneered most of today's hospitality end-point communication innovations.
Click the links here to see each Marquis 3100 hotel phone model:
3100-LBY (below) | 3100-MWB | 3100-MW5 | 3100-MW10 | 3100-MWD5 | 3100-MWD
3102-MWS | 3102-MWD5 | 3102-MWD | Wall Mount Bracket

---
---