Scitec Aegis-08 Series Hotel Room Phones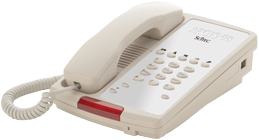 With their redesigned Aegis-08 series, Scitec continues to lead the way with innovation and flexibility. Scitec has more than 50 telephone models designed for hotel lobby, guestroom, back office, emergency, and other hotel applications - Scitec is a fixture in leading hotel chains worldwide.
Aegis-08 telephones, the standard for economy branded hotels, now offer improved styling and more features at the same low price! These rugged, trouble-free products, with added features like SciTouch® One-Touch message retrieval, are all line-powered with no need for an external power plug. For more information on Scitec hotel phones we offer, click on the links below.
FACT: Dollar for dollar, feature for feature, Scitec's Aegis-08 hotel phones are always AT LEAST 20% less expensive than Teledex phones!
Click the links here to see each Scitec Aegis-08 hotel phone model:
Aegis-LB-08 (below) | Aegis-P-08 | Aegis-3-08 | Aegis-5-08 | Aegis-10-08 | Aegis-PS-08 | Aegis-3S-08
Aegis-5S-08 | Aegis-10S-08 | Aegis-TP-08| Aegis-T5-08 | Aegis-T-08 | Aegis-LBE-08 | Wall Mount Bracket

---
---