Hotel Property Management Software

HOTELtelecom offers fantastic hotel property management system software. Our PMS package for hotel/motel applications under 100 guest rooms is easy to use, feature rich and, best of all, inexpensive to purchase. Buy your RezOvation ™ Desktop property management software today!
RezOvation seamlessly integrates with the TELECOST CMS Call Accounting package. This allows for all room calls to be tracked directly through the RezOvation reservation software. This ensures that ALL of your telecom equipment works in harmony to provide the ultimate automation of your property.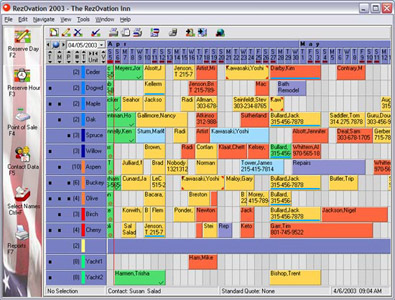 RezOvation is a comprehensive reservation/guest management software application specifically designed to meet the needs of lodging properties of all sizes. This scalable software works equally well for bed and breakfasts, country inns or the largest big-city hotels.
Developed for the Windows® operating environment, RezOvation automates inquiry & guest contact management, mail merge capabilities, reservation scheduling & booking, online reservations, occupancy & availability management, guest billing, revenue reporting, marketing and room occupancy analysis into one affordable and easy to use reservation software program.
A variety of options provide tremendous flexibility necessary for the wide range of business practices found in the lodging industry. Whether you operate an Inn, B&B, Resort, Lodge, Dude Ranch, Motel, Hotel Campground, or another type of lodging property, RezOvation can be tailored to fit your business perfectly!
RezOvation features a very unique visual design (above) that makes creating and managing reservations a breeze. The Daily Reservation Screen allows users to visually create reservations, "drag and drop" or "click and extend" reservations. Important customer information is displayed on each reservation. A right click on a reservation brings up a full menu choice allowing users to process payments, view contact information, cancel reservations and much more. In fact, anything you could do with a paper chart, you can do visually with our Daily Reservation Screen! All program colors and themes are easy to customize.
Features
Receive Online Bookings
RezOvation offers real-time online reservations through the RezOvation Booking Engine. This process allows for real-time reservations, payments, and automatic transfer of reservations and reservation requests, regardless of when they are received! This system is like having an extra person working for you 24 hours a day.

RezOvation also features a free "web module" that automatically provides online availability and your unit rates to a wide range of companies. With our availability partners, you never pay a commission for reservations booked from your own web site! We also offer a link to the GDS system so that larger properties can receive online bookings! This means you can sell your rooms through more than 600,000 travel agents worldwide, via the four main GDS systems (Sabre, Worldspan, Apollo/Galileo, Amadeus)! Sell your rooms on the most popular travel sites on the web, including Travelocity, Orbtiz, Hotwire, Travelweb, Travelscape, Yahoo! Travel, and more.
Point of Sale Integration

RezOvation features a Point Of Sale interface that helps our customers attach POS inventory items to existing reservations, make "stand alone" invoices, create gift certificates, add unlimited POS inventory and track inventory and vendors. RezOvation also has bar coding capabilities that allow users to quickly track and sell inventory items. RezOvation also makes it easy to add sales items to customer invoices. Our flexibly enables you to put together special packages that can be easily added to customer reservations. (Click on the image to the right for a larger view.)
Customer Data Tracking

The Contact Data Screen keeps track of your most important customer data. It lets you see the entire history of previous transactions and helps you enter customer preferences that can later be used for marketing purposes. (Click on the image to the right for a larger view.)
The Contact Data Screen allows users to track permanent customer data and view invoice histories for each separate purchase. Special features allow users to track customer interests, spending history, E-mail addresses and other important data. This information can later be used to create special mailing lists for E-mail or marketing letters. The Contact Data Screen also allows users to perform a variety of routine tasks. Record payments, print or e-mail confirmation letters, and edit invoices. RezOvation is designed to let users perform routine tasks from several different screens. This gives users greater flexibility and more options.
Customer Contact & Marketing Tools
RezOvation features a sophisticated Select Names Screen that helps you create unlimited combinations of marketing lists. Once you create your unique list, RezOvation provides multiple ways to send special marketing offers and other important correspondence. Create and send unique marketing letters, E-mail timely special offers, print mailing labels, or export your data to other marketing programs. We have even included permission E-mail tools to prevent unwanted "spamming" of potential customers. (Click on the image to the right for a larger view.)
Want to E-mail a specially created marketing letter to your previous customers who live in Texas, who like to ski, and have stayed with you within the past six months? No problem. In fact, RezOvation selection tools are only limited by your imagination and the information you record within the program. RezOvation is designed so that you can keep track of special customer interests, occasions, referral sources, and financial data. You create your own tracking parameters and then create special marketing lists to improve your bottom line.
Reporting
RezOvation features over 60 reports to help you manage you financial transactions and organize your routine tasks like housekeeping. These reports are clear, concise and based on years of experience. Businesses that have different owners for different rental units will love RezOvation . We provide special options that allow property management companies to run separate reports for each owner, or combine reports for aggregate information. Either way, you decide. (Click on the image to the right for a larger view.)
A complete range of financial and customer tracking reports are included. Other special features include the ability to create collections of reports that print on a daily, weekly, monthly or yearly basis. Let RezOvation automate your report printing needs!
RezOvation ™ Desktop software combined with call accounting software provides an integrated property management solution for accommodation providers of all sizes. For more information, please call us directly at 905-356-9199 or request a quote by filling in the form below.
This item has been discontinued - product details have been provided FYI only